Draping with paper has a brief verbal presentation then we have decided to keep quiet to allow you some head space to take notes.. xx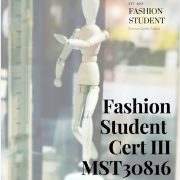 Welcome, here is the awesome certificate III course I am so glad you are joining me … xx
CERTIFICATE III
8 Certificate III qualifications delivered in Australia
MST30116 | Certificate III in Clothing and Textile Production
MST30216 | Certificate III in Manufactured Textile Products
MST30316 | Certificate III in Millinery
MST30416 | Certificate III in Footwear
MST30516 | Certificate III in Leather Production
MST30616 | Certificate III in Laundry Operations
MST30716 | Certificate III in Dry Cleaning Operations
MST30816 | Certificate III in Applied Fashion Design and Technology
FASHION DESIGN
If you love designing your own clothes, or drawing different styles for your friends or families, or perhaps you have clients already, this area of expertise if right for you.
ILLUSTRATION
Being able to draw is not always easy for some, here we have a lot of easy to follow tricks and tips for the beginner and more advanced how to steps for the natural artist.
PATTERN MAKING
Creating your own wardrobe starts with patternmaking, engineering a flat piece of cloth around a 3 dimensional form takes practice, trial and error.
BUSINESS
I love the business of fashion, being able to make money from things I have made or helped to create is very satisfying. Especially when you see a complete stranger walking for the street in your design.
SEWING
More and more people are wanting to learn to sew, if you have the knack already and want to improve with our how to videos check out this area & take your time..
SUSTAINABILITY
This is a huge game changer for many fashion businesses now, with the Fashion Revolution held annually around the world every April as one major unfortunate event. What is your take on this …. ?
BONUS
Connect to our facebook community & see what's happening the world of fashion, perhaps you will get some free instant tips & tricks
BONUS

COMING SOON
Looking for work? Register on our 'We are Hiring' page.
BONUS

COMING SOON
Business Directory is only $10 a month check it out here.
BONUS
Influencers go live weekly on our membership programs.
COMING SOON

SOOOOO EXCITED