Congratulations on deciding to build your brand with Fashion Student Online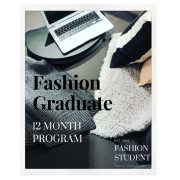 Welcome, here is the awesome Module 1, …. I am so glad you are joining our tribe … xx
MODULE 1
WEEK 2 Time Management
WELL FORMED OUTCOME

Time management

Part A
1, How do you spend your time now, using the PDF
2. Show this time usage by working out times, visually on a graph or pie chart or in a calendar.
3. Actual time plan for the future, using the PDF plan you life and business time strategies.
Lesson 2 is all about understanding how you currently spend your time on an average week [7 days]. Once your worked out how many hours you spend doing what you do….. being honest. Even go as far as to actually time yourself, guessing is ok.
Being able to understand there are only so many hours in a week to get shit done, and you want to build your dream empire then your need to be honest with your hours.
When I worked this out I came to conclusion that I had not me time. Nothing and hadn't for 3 years. I am a giver, mother, wife, daughter & care giver to my brother,… oh yes and pretty darn passionate about my career in teaching fashion. Soooo, I had to juggle some life activities and give boundaries in some areas. My daughters time was non negotiable so something else had to give, I will tell what that is later in the roadmap.
Enjoy this process, you may already know your schedule, or this may surprise you. We would love to hear your findings in the Facebook group, so if you are happy to share please do xx
Download, print out and fill out these questions with the link,
1. Firstly, consider how you spend your week, Monday to Sunday.
2. Write down all the major areas, such as sleep, work, eat, travel, family, plus anything else that relates to your life.
3. Now write down the minor areas, such as house cleaning, walking the dog, exercise, shopping or anything that relates to your life.
4. Calculate how many hours you actually spend doing each of the tasks in your life on an average week.
5.Write down anything that has surprised you or worries you below.
6. Have you included time for yourself to relax or do exercise or for activities you enjoy to unwind?
7. If not then you must figure out how to include this.
8. Now, have you allocated enough time to complete your fashion brand goals, is it 40 hours a week you need or just 10 hours?
9. On a separate piece of paper spend a few days playing around with your hours, your activities and a daily schedule that allows you to accomplish your life and your goals.
10. Demonstrate your final weekly scenario in a
1) pie chart,
2) day to day calendar and
3) you will discuss this with your mentor
4) share your findings in the Facebook group.
Part B
Business Time Management.
1. Where are you going to position your business in the production / retail chain.
From consumer = now through to Forecasting designer = 3 years
2. Time affects all the positions in the chain. (there are rough guides for now)
consumer now
retail 2-4 weeks (wholesale – stock lines)
shipping logistics 2-6weeks
QC / QA 6-8 weeks
Production (cutting / sewing) 12 – 6 weeks
Pattern maker 8 months – 12 weeks
sampling 8 – 6 months
wholesale 1 year – 6 months (indent ranges)
Design 1 1/2 years – 6 months
Influencer 1 – 2 years or daily
Textile designer 2 years
Trend forecasting 3 years (Look at Panton, WGSN, Pinterest, Faith Popcorn.) Please add your finding below of how far ahead you been able to go.
3. Research into how far ahead you can track your trends, 2021, 2022 or 2023
4. Now reconsider your position in the chain.
5. How do you know your business? By a few ways, your geographical location, what your consumers are needing / wanting & by researching your seasonal / fashion calendar.
So, go out to watch your customers and find out what they are buying right now. Set up a survey on survey monkey and ask your friends and family if they follow the fashion calendar, get annoyed with what is in store or don't even realise it. You are looking to see if you are going to produce goods to your scheduling or follow what is currently happening in the industry.
Any questions please add below.
Enjoy thanks
Watch Video

Answer the questions

Fill in the calendar according to your current life activities.

Fill in the 7 day calendar according to your new plans

Add you feedback in the Facebook group

Download the Google Docs Time Management exercise, this is an excel document. You are required to download the document onto your own computer and make the changes there.
FASHION DESIGN
Do you love designing or need help. We have option extras available
ILLUSTRATION
Being able to draw is not always easy for some, here we have a lot of easy to follow tricks and tips for the beginner and more advanced how to steps for the natural artist.
PATTERN MAKING
Creating your own wardrobe starts with patternmaking, engineering a flat piece of cloth around a 3 dimensional form takes practice, trial and error.
BUSINESS
Focused towards established businesses.
SEWING
More and more people are wanting to learn to sew, if you have the knack already and want to improve with our how to videos check out this area & take your time..
SUSTAINABILITY
This is a huge game changer for many fashion businesses now, with the Fashion Revolution held annually around the world every April as one major unfortunate event. What is your take on this …. ?
BONUS
Connect to our facebook community and see what's happening in the world of fashion, perhaps you will get some free instant tips and tricks
BONUS

COMING SOON
Looking for work? Register on our 'We are Hiring' page.
BONUS

COMING SOON
Business Directory is only $10 a month check it out here.
BONUS
Influencers go live weekly on our membership programs.
COMING SOON

SOOOOO EXCITED