Congratulations on deciding to build your brand with Fashion Student Online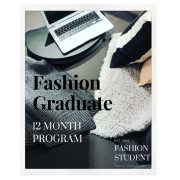 Welcome, here is the awesome Module 1, …. I am so glad you are joining our tribe … xx
MODULE 1
WEEK 3 BUSINESS PLAN
Fail to Plan, Plan to Fail
Lesson 3, we are introducing you to our business plan…
As a fashion graduate you may have already completed a business plan for an assessment or you may have one you have completed for another objective.
PLANNING.
Getting super clear on what you want to achieve/get/illicit is the first step to success.
It will benefit you to have your previous business plan handy to recap on your thoughts, goals & creative objectives. The biggest difference may be that you are now doing this for real.
Download the roadmap below
Remember:
THIS IS A WORK IN PROGRESS.
Contents
Keep this document handy and you will go back over this business plan every month, adding to it and building on it. We hope you enjoy this journey of creation and self discovery because this isn't just about building an empire it's also about you.
xxx
Watch Video
Get acquainted with the Business Plan

Add you feedback in the Facebook group
BONUS
Having trouble figuring out what to name your business….??? this little Business name questionnaire may help xx
FASHION DESIGN
Do you love designing or need help. We have option extras available
ILLUSTRATION
Being able to draw is not always easy for some, here we have a lot of easy to follow tricks and tips for the beginner and more advanced how to steps for the natural artist.
PATTERN MAKING
Creating your own wardrobe starts with patternmaking, engineering a flat piece of cloth around a 3 dimensional form takes practice, trial and error.
BUSINESS
Focused towards established businesses.
SEWING
More and more people are wanting to learn to sew, if you have the knack already and want to improve with our how to videos check out this area & take your time..
SUSTAINABILITY
This is a huge game changer for many fashion businesses now, with the Fashion Revolution held annually around the world every April as one major unfortunate event. What is your take on this …. ?
BONUS
Connect to our facebook community and see what's happening in the world of fashion, perhaps you will get some free instant tips and tricks
BONUS

COMING SOON
Looking for work? Register on our 'We are Hiring' page.
BONUS

COMING SOON
Business Directory is only $10 a month check it out here.
BONUS
Influencers go live weekly on our membership programs.
COMING SOON

SOOOOO EXCITED