Congratulations on deciding to build your brand with Fashion Student Online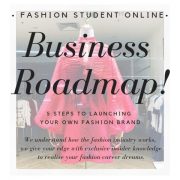 Module 1 week 2, time management … xx
BONUS
We all love a surprise gift…. Its coming your way
How to prepare Fashion Products
Lesson 1
Part B
1.
Is all about understanding how you currently spend your time on an average week [7 days].
Once you
Enjoy this process, you may already know your schedule, or this may surprise you. We would love to hear your findings in the Facebook group, so if you are happy to share please do xx
Download, print out and fill out these questions with the link
1. Firstly, consider ho
Part B
Business Time Management.
1. Where ar
LINKS
BONUS Facebook group
Connect to the FB community and see what's happening in the world of fashion.
BONUS One on One Mentoring
Click below to book your zoom chat or face to face one on one mentoring session.
BONUS FBR Facebook
Your exclusive group of Fashion Business Roadmap boss babes.
BONUS Fashion toolbox
Created by industry experts for anyone who wants to learn all about fashion.