Congratulations on deciding to build your brand
with Fashion Student Online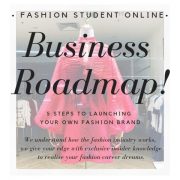 Module 1 Week 2 Time Management
MODULE 1
WEEK 2 Time Management
Time management

There are 4 sections to this module. 

1. Answer the Hard Question PDF
2. Track your time over 7 days, using the PDF

3. Show this time usage by working out times, visually on a graph or pie chart or in a calendar or a
 pretty picture noting how much time you have spent over the past 7 days. Listing out the duties, tasks, activities you have taken part in and how much time each of those took. Calculate using 100% as the total usage. We will work out your "non negotiable" activities IE sleep, eat, breath and those which are "negotiable" Netflix, social media and social life. 

4. Actual time plan for the future, using the PDF plan you life and business time strategies.
Step 1
Print off the Templates
Step 2
Watch the video
This module is about learning and understanding how you currently spend your time on an average week, 7 days. No more and no less.
Step 3
Answers the Hard questions
Once you have worked out how many hours you spend doing what you do….. being honest. Even go as far as to actually time yourself, but guessing is ok if you forget.
Here is a brief snapshot of the "hard questions":
1. Firstly, consider how you spend your week, Monday to Sunday.
2. Write down all the major areas, such as sleep, work, eat, travel, family, plus anything else that relates to your life.
3. Now write down the minor areas, such as house cleaning, walking the dog, exercise, shopping or anything that relates to your life.
4. Calculate how many hours you actually spend doing each of the tasks in your life on an average week.
5.Write down anything that has surprised you or worries you below.
6. Have you included time for yourself to relax or do exercise or for activities you enjoy to unwind?
7. If not then you must figure out how to include this.
8. Now, have you allocated enough time to complete your fashion brand goals, is it 40 hours a week you need or just 10 hours?
Step 4
Track how you spend your time over 7 days using the PDF

Step 5
Calculate how you have spent your time.
There are only 168 hours in 1 week to get your s$%& done, and you want to build your dream empire then you need to be honest with your hours. You see, I am here to help you as much as I am able in the time allocated, but you need to be realistic in what you will be able to achieve in the time you set aside to complete the work.
9. On a separate piece of paper spend a few days playing around with your hours, your activities and a daily schedule that allows you to accomplish your life and your goals.
10. Demonstrate your final weekly scenario in a
1) pie chart, graph or pretty picture
2) day to day calendar and
3) you will discuss this with your mentor
4) share your findings in the Facebook group.
Step 6
Plan how you will spend your time in the future and for this business idea. Using the 7 page 7 day PDF
When I worked out how I spent my time, I came to conclusion that I had no me time. Nothing, zero, not a second and hadn't for about 3 years.
I am a giver, daughter, sister, wife, mother, plus I recently had to be a care-giver to my brother,… oh yes and I pretty darn passionate about my career in teaching fashion. Soooo, I had to juggle some life activities and give boundaries in some other areas. My daughters time was non negotiable so something else had to give, I will tell what that is later in the roadmap.
Enjoy this process, you may already know your schedule, or this may surprise you.
We would love to hear your findings in the Facebook group, so if you are happy to share please do xx
Any questions please add below.
Enjoy
Watch Video

Answer the questions

Fill in the calendar according to your current life activities.

Fill in the 7 day calendar according to your new plans

Add you feedback in the Facebook group

Download the Google Docs Time Management exercise, this is an excel document. You are required to download the document onto your own computer and make the changes there.
BONUS Facebook group
Connect to the FB community and see what's happening in the world of fashion.
BONUS One on One Mentoring
Click below to book your zoom chat or face to face one on one mentoring session.
BONUS FBR Facebook
Your exclusive group of Fashion Business Roadmap boss babes.
BONUS Fashion toolbox
Created by industry experts for anyone who wants to learn all about fashion.