Congratulations on deciding to build your brand with Fashion Student Online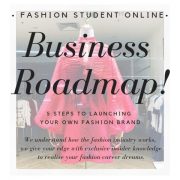 Module 1 week 3, …. Business Planning … xx
MODULE 1
WEEK 3 BUSINESS PLAN
Fail to Plan, Plan to Fail
Lesson 3, we are introducing you to our business plan…
As a fashion graduate you may have already completed a business plan for an assessment or you may have one you have completed for another objective.
PLANNING.
Getting super clear on what you want to achieve/get/illicit is the first step to success.
It will benefit you to have your previous business plan handy to recap on your thoughts, goals & creative objectives. The biggest difference may be that you are now doing this for real.
Download the roadmap below
Remember:
THIS IS A WORK IN PROGRESS.
Contents
Keep this document handy and you will go back over this business plan every month, adding to it and building on it. We hope you enjoy this journey of creation and self discovery because this isn't just about building an empire it's also about you.
xxx
Watch Video

Get acquainted with the Business Plan

Add you feedback in the Facebook group
BONUS
Having trouble figuring out what to name your business….??? this little Business name questionnaire may help xx
BONUS
WE DISCOVERED A DIFFERENT KIND OF BUSINESS PLANNING METHOD, CLICK THE LINK BELOW TO DOWNLOAD OUR EXCEL VERSION. YOU WILL NEED TO HAVE EXCEL OR MAC NUMBERS ON YOUR LAPTOP OR COMPUTER IN ORDER TO SEE IT, USE IT AND CREATE YOUR BUSINESS ON IT. BOTH BUSINESS PLANNING DOCUMENTS ARE BASICALLY ASKING FOR THE SAME INFORMATION, YOU CHOOSE WHICH ONE YOU PREFER.
BONUS Facebook group
Connect to the FB community and see what's happening in the world of fashion.
BONUS One on One Mentoring
Click below to book your zoom chat or face to face one on one mentoring session.
BONUS FBR Facebook
Your exclusive group of Fashion Business Roadmap boss babes.
BONUS Fashion toolbox
Created by industry experts for anyone who wants to learn all about fashion.
[/vc_column][/mk_page_section]